Parenting Styles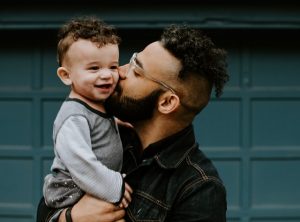 Relationships between parents and children continue to play a significant role in children's development during early childhood. As children mature, parent-child relationships naturally change. Preschool and grade-school children are more capable, have their own preferences, and sometimes refuse or seek to compromise with parental expectations. This can lead to greater parent-child conflict, and how conflict is managed by parents further shapes the quality of parent-child relationships. 
Baumrind (1971) identified a model of parenting that focuses on the level of control/ expectations that parents have regarding their children and how warm/responsive they are. This model resulted in four parenting styles. In general, children develop greater competence and self-confidence when parents have high, but reasonable expectations for children's behavior, communicate well with them, are warm, loving and responsive, and use reasoning, rather than coercion as preferred responses to children's misbehavior. This kind of parenting style has been described as authoritative (Baumrind, 2013). Authoritative parents are supportive and show interest in their kids' activities but are not overbearing and allow them to make constructive mistakes. Parents allow negotiation where appropriate, and consequently this type of parenting is considered more democratic. 
Authoritarian is the traditional model of parenting in which parents make the rules and children are expected to be obedient. Baumrind suggests that authoritarian parents tend to place maturity demands on their children that are unreasonably high and tend to be aloof and distant. Consequently, children reared in this way may fear rather than respect their parents and, because their parents do not allow discussion, may take out their frustrations on safer targets-perhaps as bullies toward peers. 
Permissive parenting involves holding expectations of children that are below what could be reasonably expected from them. Children are allowed to make their own rules and determine their own activities. Parents are warm and communicative but provide little structure for their children. Children fail to learn self-discipline and may feel somewhat insecure because they do not know the limits. 
Uninvolved parents are disengaged from their children. They do not make demands on their children and are non-responsive. These children can suffer in school and in their relationships with their peers (Gecas & Self, 1991). 
Keep in mind that most parents do not follow any model completely. Real people tend to fall somewhere in between these styles. Sometimes parenting styles change from one child to the next or in times when the parent has more or less time and energy for parenting. Parenting styles can also be affected by concerns the parent has in other areas of his or her life. For example, parenting styles tend to become more authoritarian when parents are tired and perhaps more authoritative when they are more energetic. Sometimes parents seem to change their parenting approach when others are around, maybe because they become more self-conscious as parents or are concerned with giving others the impression that they are a "tough" parent or an "easy-going" parent. Additionally, parenting styles may reflect the type of parenting someone saw modeled while growing up.
Culture. The impact of culture and class cannot be ignored when examining parenting styles. The model of parenting described above assumes that the authoritative style is the best because this style is designed to help the parent raise a child who is independent, self-reliant and responsible. These are qualities favored in "individualistic" cultures such as the United States, particularly by the middle class. However, in "collectivistic" cultures such as China or Korea, being obedient and compliant are favored behaviors. Authoritarian parenting has been used historically and reflects cultural need for children to do as they are told. African-American, Hispanic, and Asian parents tend to be more authoritarian than non-Hispanic whites. In societies where family members' cooperation is necessary for survival, rearing children who are independent and who strive to be on their own makes no sense. However, in an economy based on being mobile in order to find jobs and where one's earnings are based on education, raising a child to be independent is very important. 
In a classic study on social class and parenting styles, Kohn (1977) explains that parents tend to emphasize qualities that are needed for their own survival when parenting their children. Working class parents are rewarded for being obedient, reliable, and honest in their jobs. They are not paid to be independent or to question the management; rather, they move up and are considered good employees if they show up on time, do their work as they are told, and can be counted on by their employers. Consequently, these parents reward honesty and obedience in their children. Middle class parents who work as professionals are rewarded for taking initiative, being self-directed, and assertive in their jobs. They are required to get the job done without being told exactly what to do. They are asked to be innovative and to work independently. These parents encourage their children to have those qualities as well by rewarding independence and self-reliance. Parenting styles can reflect many elements of culture. 
Spanking
Spanking is often thought of as a rite of passage for children, and this method of discipline continues to be endorsed by the majority of parents (Smith, 2012). Just how effective is spanking, however, and are there negative consequences? After reviewing the research, Smith (2012) states "many studies have shown that physical punishment, including spanking, hitting and other means of causing pain, can lead to increased aggression, antisocial behavior, physical injury and mental health problems for children" (p. 60). Gershoff, (2008) reviewed decades of research and recommended that parents and caregivers make every effort to avoid physical punishment and called for the banning of physical discipline in all U.S. schools. 
In a longitudinal study that followed more than 1500 families from 20 U.S. cities, parents' reports of spanking were assessed at ages three and five (MacKenzie, Nicklas, Waldfogel, & Brooks-Gunn, 2013). Measures of externalizing behavior and receptive vocabulary were assessed at age nine. Results indicated that those children who were spanked at least twice a week by their mothers scored 2.66 points higher on a measure of aggression and rule-breaking than those who were never spanked. Additionally, those who were spanked less, still scored 1.17 points higher than those never spanked. When fathers did the spanking, those spanked at least two times per week scored 5.7 points lower on a vocabulary test than those never spanked. This study revealed the negative cognitive effects of spanking in addition to the increase in aggressive behavior. 146 
Internationally, physical discipline is increasingly being viewed as a violation of children's human rights. According to Save the Children (2019), 46 countries have banned the use of physical punishment, and the United Nations Committee on the Rights of the Child (2014) called physical punishment "legalized violence against children" and advocated that physical punishment be eliminated in all settings. 
Many alternatives to spanking are advocated by child development specialists and include: 
Praising and modeling appropriate behavior

 

Providing time-outs for inappropriate behavior

 

Giving choices

 

Helping the child identify emotions and learning to calm down

 

Ignoring small annoyances

 

Withdrawing privileges

 
Optional further reading:
Here is an article summarizing current research on the effects of spanking, which concludes with the recommendation that "parents should avoid physical punishment, psychologists should advise and advocate against it, and policymakers should develop means of educating the public about the harms of and alternatives to physical punishment" (Gershoff et al., 2018, p. 626)
Gershoff, E. T., Goodman, G. S., Miller-Perrin, C. L., Holden, G. W., Jackson, Y., & Kazdin, A. E. (2018). The strength of the causal evidence against physical punishment of children and its implications for parents, psychologists, and policymakers. American Psychologist, 73(5), 626-638.
Sibling Relationships
Siblings spend a considerable amount of time with each other and offer a unique relationship that is not found with same-age peers or with adults. Siblings play an important role in the development of social skills. Cooperative and pretend play interactions between younger and older siblings can teach empathy, sharing, and cooperation (Pike, Coldwell, & Dunn, 2005), as well as, negotiation and conflict resolution (Abuhatoum & Howe, 2013). However, the quality of sibling relationships is often mediated by the quality of the parent-child relationship and the psychological adjustment of the child (Pike et al., 2005). For instance, more negative interactions between siblings have been reported in families where parents had poor patterns of communication with their children (Brody, Stoneman, & McCoy, 1994). Children who have emotional and behavioral problems are also more likely to have negative interactions with their siblings. However, the psychological adjustment of the child can sometimes be a reflection of the parent-child relationship. Thus, when examining the quality of sibling interactions, it is often difficult to tease out the separate effect of adjustment from the effect of the parent-child relationship. 
While parents want positive interactions between their children, conflicts are going to arise, and some confrontations can be the impetus for growth in children's social and cognitive skills. The sources of conflict between siblings often depend on their respective ages. Dunn and Munn (1987) revealed that over half of all sibling conflicts in early childhood were disputes about property rights. By middle childhood this starts shifting toward control over social situations, such as what games to play, disagreements about facts or opinions, or rude behavior (Howe, Rinaldi, Jennings, & Petrakos, 2002).
Researchers have also found that the strategies children use to deal with conflict change with age, but this is also tempered by the nature of the conflict. Abuhatoum and Howe (2013) found that coercive strategies (e.g., threats) were more common when the dispute centered on property rights, while reasoning was more likely to be used by older siblings and in disputes regarding control over the social situation. However, younger siblings also use reasoning, frequently bringing up the concern of legitimacy (e.g., "You're not the boss") when in conflict with an older sibling. This is a very common strategy used by younger siblings and is possibly an adaptive strategy in order for younger siblings to assert their autonomy (Abuhatoum & Howe, 2013). A number of researchers have found that children who can use non-coercive strategies are more likely to have a successful resolution, whereby a compromise is reached and neither child feels slighted (Ram & Ross, 2008; Abuhatoum & Howe, 2013). Not surprisingly, friendly relationships with siblings often lead to more positive interactions with peers. The reverse is also true. A child can also learn to get along with a sibling, with, as the song says, "a little help from my friends" (Kramer & Gottman, 1992). 
---
Supplemental Materials
This episode of VICE takes a journey to Sweden and follows a gender non-conforming family to find out what it's like to grow up without the gender binary.
This study explores how the typical parenting styles may not capture Latinx families well and underscores the importance of incorporating cultural context in any study of parenting.
Domenech Rodríguez, M. M., Donovick, M. R., & Crowley, S. L. (2009). Parenting styles in a cultural context: Observations of "protective parenting" in first-generation Latinos. Family Process, 48, 195-210.
---
References
Abuhatoum, S., & Howe, N. (2013). Power in sibling conflict during early and middle childhood. Social Development, 22, 738-754.
Baumrind, D. (1971). Current patterns of parental authority. Developmental Psychology Monograph, 4(1), part 2.
Baumrind, D. (2013). Authoritative parenting revisited: History and current status. In R. E. Larzelere, A. Sheffield, & A. W. Harrist (Eds.). Authoritative parenting: Synthesizing nurturance and discipline for optimal child development (pp. 11-34). Washington, DC: American Psychological Association.
Dunn, J., & Munn, P. (1987). Development of justification in disputes with mother and sibling. Developmental Psychology, 23, 791-798.
Gecas, V., & Seff, M. (1991). Families and adolescents. In A. Booth (Ed.), Contemporary families: Looking forward, looking back. Minneapolis, MN: National Council on Family Relations.
Gershoff, E. T. (2008). Report on physical punishment in the United States: What research tell us about its effects on children. Columbus, OH: Center for Effective Discipline.
Howe, N., Rinaldi, C. M., Jennings, M., & Petrakos, H. (2002). "No! The lambs can stay out because they got cozies": Constructive and destructive sibling conflict, pretend play, and social understanding. Child Development, 73, 1406-1473.
Kohn, M. L. (1977). Class and conformity. (2nd ed.). Chicago: University of Chicago Press.
Kramer, L., & Gottman, J. M. (1992). Becoming a sibling: "With a little help from my friends." Developmental Psychology, 28, 685-699.
MacKenzie, M. J., Nicklas, E., Waldfogel, J., & Brooks-Gunn, J. (2013). Spanking and child development across the first decade of life. Pediatrics, 132(5), e1118-e1125.
Ram, A., & Ross, H. (2008). "We got to figure it out": Information-sharing and siblings' negotiations of conflicts of interest. Social Development, 17, 512-527.
Save the Children. (2019). Child protection. Retrived from https://www.savethechildren.net/what-we-do/child-protection
Smith, B. L. (2012). The case against spanking. Monitor on Psychology, 43(4), 60.
United Nations. (2014). Committee on the rights of the child. Retrieved from http://tbinternet.ohchr.org/Treaties/CRC/Shared%20Documents/VAT/CRC_C_VAT_CO_2_16302_E.pdf
---
OER Attribution:
"Lifespan Development: A Psychological Perspective, Second Edition" by Martha Lally and Suzanne Valentine-French is licensed under a CC-BY-NC-SA-3.0
Video Attribution:
Raised without gender by VICE is licensed All Rights Reserved and is embedded here according to YouTube terms of service.